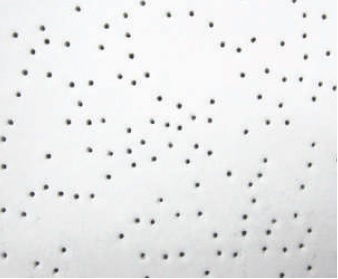 Non-directional pattern Fresh, clean and aesthetic look Provides dual inhibition of mold/mildew and odor/stain-causing bacteria (For indoor Environmental Quality). Lightweight and easy to cut Eco-friendly and Biodegradable
Typical Uses:Reception areas, Showrooms, Individual offices, Cloakrooms, Meeting rooms, Conference rooms, Sport rooms, Cafeterias, Restaurants, Canteens, Consulting rooms, Concert halls, Theatres, Libraries, Lounges, Shops, Bars,etc.
TECHNICAL DETAILS:
Size: 600 x 600 mm
Sound absorption (NRC): 0.4 - 0.6
Sound attenuation Dncw (dB): 34
Light reflectance (%): 85
Humidity resistance (% RH): 95
Fire reaction: Class O/Class 1 (BS 476)
Fire resistance(hour): 1
Thermal conductivity (W/mk): 0.052 - 0.057
SPECIFICATION :
Surface: 3 coats of white paint.
Back Side: Sanded & one coat of paint.
ADVANTAGES:
Random & fine perforation.
Aesthetic, fresh & clean look.
Eco-friendly and Bio-degradable.
APPLICATION AREAS :
Class/Computer Room, Clubs, Theatres, Office etc.